Q: How much money do you lose while your servers are down?
A: You don't have to lose any! HostMonitor is a system management tool that continuously monitors servers' availability and performance. In the event of network errors, HostMonitor will alert the network administrator (or even correct the problem when possible) before problems get seriously out of hand. This helps protect your company's data and reduces the likelihood of costly network failures.
---
Test Methods
Alert Methods
Logs & Reports
Network discovery
Tools
System Requirements
Price
HostMonitor is a highly scalable network monitoring software
suitable for small and enterprise-level networks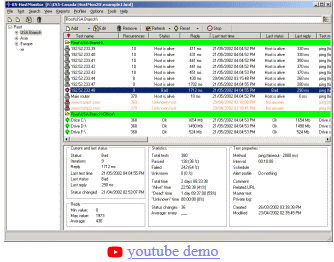 Probably you will say "There are dozens of programs like this"? That is right! But please check what HostMonitor offers and compare its power and flexibility to surprisingly low price:
over 140 test methods - HostMonitor can check almost any parameter of your servers;
highly flexible action profiles allow you to start actions in predefined order depending on the test results;
HostMonitor creates various log files using different detail levels and file formats (Text, HTML, DBF and ODBC);
built-in Report Manager allows you to create and customize reports to your liking in a variety of ways;
using Remote Monitoring Agents for Windows, FreeBSD, Linux, NetBSD, OpenBSD and Solaris you may easily monitor remote networks;
Web Service, Telnet Service and Remote Control Console simplifies remote management;
and this is not all...
over 140 test methods!
HostMonitor can check Windows and UNIX systems, Cisco and Juniper routers, NetApp NAS devices, Hewlett-Packard servers, UPS devices, VMWare host and guest systems and much more.
It can ping a host, check a route, monitor Web, Mail or DNS server, check domain and certificate expiration date, monitor temperature, voltage and fan status on various devices. HostMonitor can check the available disk space, amount of free memory, CPU usage, monitor size of a file or folder, check integrity of your files and web site; HostMonitor can find Windows process that uses most of system resources, test your SQL servers and more.
See complete test list.

But what is of no less importance is how you can manage monitoring tasks ("test items" in our terminology). Test items can be organized into different groups (folders), each folder has its own settings such as color palette, list of reports, statistic information, etc.

Tests can be performed on regular intervals (e.g. every 5 min) or on schedule (e.g. every Friday at 6:05PM); tests can be performed directly by HostMonitor or they can be performed by Remote Monitoring Agents installed on remote network. Some tests may depend on another, e.g. you may easily configure HostMonitor to check 10 web servers when your primary router is up, and check another (backup) server when your primary router is down.
36 alert methods
HostMonitor is a network administration software, it provides different ways to respond on failed services. Audio and visual notifications alert people near the machine. E-mail and SMS notifications inform a wider range of remote operators. HostMonitor can take actions that are designed to recover from a failure automatically without human intervention (e.g. "restart service", "reboot computer" or "dial-up to the network" actions). See complete actions list.

Highly flexible Action Profiles allow you to start actions in predefined order depending on the test results:
- E.g. you may start some action only when both primary and backup mail servers do not respond.
- Or an action profile can be set up to page both the IT manager and the network administrator during regular office hours, and to page the administrator alone the rest of the time, while doing nothing else but writing to the log on weekends.
- Another example: when some critical service fails HostMonitor may reboot the server. If that does not help, HostMonitor will send e-mail to the on-call technician. If, however, the server remains silent during the next three probes, the network administrator is to be paged until the server is brought back up.

Install HostMonitor and you will see how easy it is to implement all of the above with even more sophisticated behavior patterns.
And yes, various macro variables allow you to use the same action profile for hundreds or thousands of monitoring tasks (test items). E.g. If you monitor 10 different services on each of 100 servers, you may use single action to restart any failed service on any of these systems.
Network discovery and replicator
You may setup "LAN records" for scanning and HostMonitor or RMA will find all systems in the LANs. HostMonitor and Remote Monitoring Agents will scan selected networks in background and update database when any changes detected. At any time you may open "Network map" window and see up to date map of your network with "bad" hosts marked by red or yellow color (when some test items related to the host detected a problem).

Built-in Replicator allows to replicate selected set of tests for many target hosts. It may create new folders, set variables, adjust test settings. For example you may select some host using "Network map" window, choose "Copy" item from popup menu and tell HostMonitor to create the same set of tests for each system with enabled WMI service in 10.22.1.50 - 10.22.1.250 IP range.
Report Manager and Log Analyzer
HostMonitor can generate test result log files and reports. HostMonitor creates various log files using different detail levels and file formats (Text, HTML, DBF and ODBC) and can be configured to suit your needs.

The highly flexible built-in Report Manager allows you to create and customize reports to your liking in a variety of ways. For example, a report designed for the head of the department might have an entirely different look and feel as compared to the one intended for use by the network administrator. Also note that separate groups of tests may contain its own list of reports, and each of the reports may be set up with a launching schedule specific to that group.

Also Advanced Host Monitor package includes a Log Analyzer which can illustrate separate information for each tested host. The Log Analyzer can collect statistical information and show graphs of all response times for specific time periods for all or individual servers. Using the statistical information, an administrator can analyze request times for specific servers over a period of time.
Remote Monitoring Agents for Windows, FreeBSD, Linux, NetBSD, OpenBSD and Solaris
HostMonitor can check remote hosts directly or using Remote Monitoring Agents (RMA) installed in another network. RMA is small application that accepts requests from HostMonitor, performs test and provides information about test result back to HostMonitor.
RMA increases security of the network, decreases network traffic, simplifies network administration, and allows to monitor systems that are impossible to monitor directly from HostMonitor (e.g. using RMA HostMonitor can check a number of user sessions on Linux system).

Web service, Telnet service, Remote Control Console
Web Service works like an HTTP server and provides web interface for HostMonitor. Telnet Service works like Telnet server and allows you to control HostMonitor remotely using any telnet client. These applications allow you to check brief or detailed status of any test, start or stop monitoring process, enable or disable alerts, change global macro variables, etc. Also you will be able to disable and enable tests, reset statistics, force tests to execution and even change some parameters of the tests.
RCC allows you to work with HostMonitor which is running on a remote system just like you work with HostMonitor when it is started on your local system. Several operators may start RCC on different systems and work with the same instance of HostMonitor at the same time.
Utilities and auxiliary applications
In addition to HostMonitor (the core of the package) an Advanced Host Monitor package has the following auxiliary components:






IP-Tools: 20 TCP/IP utilities
IP-Tools is a popular and powerful network tool which provides 20 TCP/IP utilities. IP-Tools is a separate package, however an Enterprise license for Advanced Host Monitor includes a bonus license for IP-Tools.

30 days trial period
You may download and use Advanced Host Monitor for free within a 30 days trial period. You need just several minutes to download and install HostMonitor. By the way: our network monitoring software does not change any of the system settings or DLLs, you will be able to remove the software within a minute.
System requirements
Download Advanced Host Monitor
Affordable prices
Advanced Host Monitor provides system administrators with the benefits of a powerful network monitor at an affordable price. Advanced Host Monitor package is available in several licensing options: Starter ($199), Professional ($350), Advanced ($599), Enterprise ($1299) and Enterprise with LongTermSupport option ($2499). You can order by credit card, Switch and Solo debit cards, check/money order or wire transfer order.
Awards
It is surprisingly easy to install, administer and use. For example you will be able to copy custom configured package from one server to another within 2-3 minutes. HostMonitor can be launched as application or started as a Win32 Service. Highly intuitive interface and context help system makes our software easy to learn.
Probably that's why our network monitor has number of top awards
Customers
We are proud that our software helps customers in over 82 countries. Today our client base encompasses thousands of IT companies and private firms, 197 government organizations, 173 banks, and 138 universities. The most well known companies using our network administration and network monitoring software.
Advantages

140+ test methods!
36 alert methods
Logs & Reports
Network discovery


Need more information?

Online manual
Utilities and auxiliary applications
System Requirements
Affordable prices

Have a question?